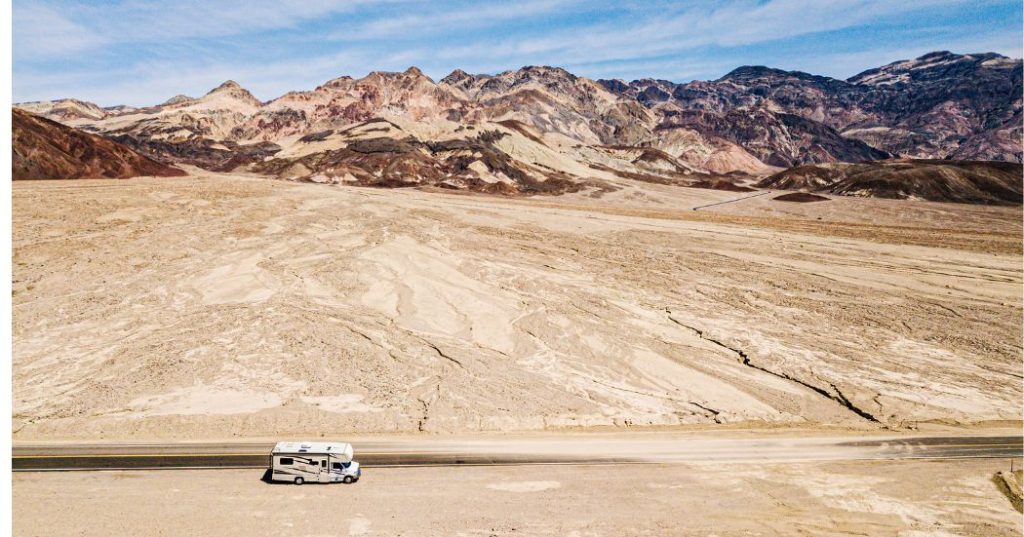 RV Camping in Death Valley
Death Valley offers several options for RV camping, where you can park your home on wheels and explore the natural wonders of this amazing national park. However, remember that summer temperatures can be extremely high, often exceeding 100°F (37°C), so it's essential to plan your trip accordingly. This article is brought to us by our friends at Oakley Executive RV Storage, the best RV storage near Discovery Bay.
Below are some popular RV camping spots in Dealth Valley:
*Always check the campsite website before booking your trip. We try to use the most recent information, but things change!
Furnace Creek Campground
Amenities: Full hookups, potable water, flush toilets, dump station, and picnic tables.
Best For: Those looking for easy access to the Visitor Center and other key attractions in the park.
Note: This campground tends to fill up quickly, especially during the cooler months, so making a reservation well in advance is advisable.
Sunset Campground
Amenities: Dump station, flush toilets, and potable water; however, no hookups exist.
Best For: Late arrivers, as this campground works on a first-come, first-served basis.
Note: This campground is generally flat, making it suitable for larger RVs.
Stovepipe Wells Campground
Amenities: Some sites offer full hookups, flush toilets, and potable water.
Best For: Proximity to Mesquite Flat Sand Dunes and other natural attractions.
Note: Like Sunset, this campground also tends to have availability, but it's wise to arrive early to secure a spot.
Texas Spring Campground
Amenities: Flush toilets, potable water, but no hookups
Best For: Those looking for a quieter, more secluded experience.
Note: This campground is better suited for smaller RVs due to its uneven terrain.
Panamint Springs Resort
Amenities: Full hookups, restaurant, and general store
Best For: Those looking for more creature comforts and amenities, including Wi-Fi.
Note: This is a privately owned campground located just within the park's western boundary.
Badwater Basin
Highlight: Salt Flats
Death Valley is home to North America's lowest point, Badwater Basin, at 282 feet below sea level. The salt flats here stretch as far as the eye can see, offering an otherworldly experience. The ground is covered in a layer of crunchy salt, which creates beautiful geometric patterns. The best time to visit is during sunset when the fading sunlight reflects off the salt flats, setting the ground ablaze in hues of pink and orange.
Zabriskie Point
Highlight: Dramatic Landscapes
No trip to Death Valley is complete without a visit to Zabriskie Point. The view from this spot is nothing short of breathtaking; a panoramic sight of eroded badlands that look like they've been painted with a golden brush. The sunrises and sunsets here are particularly mesmerizing, so make sure to come during these times to capture some stunning photographs.
Dante's View
Highlight: Panoramic Vistas
Dante's View offers an unparalleled panoramic vista for those interested in seeing Death Valley from an elevated perspective. Situated at over 5,000 feet, this viewpoint overlooks the valley and the Panamint Mountains in the backdrop. Early mornings or late afternoons are ideal times to visit to avoid the harsh midday sun.
Furnace Creek
Highlight: Visitor Center and Amenities
If you're new to Death Valley, your first stop should be at Furnace Creek Visitor Center. This is a hub for information, trail maps, and expert advice. Furnace Creek also offers some basic amenities like restaurants, gas stations, and lodging, making it a convenient point for refueling and regrouping.
Mesquite Flat Sand Dunes
Highlight: Sand Dunes
Visiting the Mesquite Flat Sand Dunes will make you feel like you've stepped onto a different planet. The dunes rise from the desert floor like towering waves, providing an excellent photographic backdrop. These are accessible dunes, perfect for a quick hike. If you're up for it, try sandboarding down the slopes for a thrilling experience.
The Racetrack
Highlight: Sailing Stones
Situated in a remote part of the park, The Racetrack is a dry lake bed famous for its "sailing stones." For years, these rocks have mysteriously moved across the surface of the lake bed, leaving behind a trail. Recent studies attribute this phenomenon to a unique interplay of ice and wind, but seeing it firsthand is still a marvel.
Artists Palette
Highlight: Colorful Rock Formations
True to its name, Artist's Palette showcases a variety of rock formations in vivid colors—ranging from pink and turquoise to lavender. The 9-mile scenic drive to reach this spot is worth every second, providing numerous opportunities to stop and take photographs.
Safety Tips
Stay Hydrated: This cannot be stressed enough. Always carry more water than you think you'll need.
Check Weather Conditions: Extreme temperatures can make visiting certain spots dangerous.
Be Prepared: Cell service is limited, so carry paper maps and first-aid supplies.
Death Valley National Park may be known for its extreme conditions, but its dramatic landscapes and unique geological features make it one of America's most unforgettable natural wonders. Each point of interest offers its own unique beauty, presenting a myriad of opportunities to connect with nature and capture awe-inspiring photos.
Whether you are an avid hiker, a photographer, or someone looking to experience something extraordinary, Death Valley welcomes you to explore its breathtaking terrain.
Are you an avid RV enthusiast? Check out this blog, RV Storage Security: Top 4 Features to Look for in a Storage Facility.